HandyGames Panzer Tactics 2 invades mobile gaming
According to PocketGamer's Rob Hearn, Panzer Tactics is a tad too complex for a mobile game. Panzer tactics is a strategy based war game, and as with strategy war games they do take some time to play, and be honest how much time does the normal person have in the day to actually play games like this, unless you are an ardent mobile game player who sneakily plays when you should be working.
However obviously there are people who disagree because HandyGames has now released a sequel, Panzer Tactics 2. Panzer tactics is supposedly slicker and simpler although looking at the images it doesn't appear to be that different.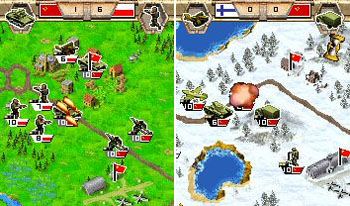 The problem with Panzer Tactics 1 was apparently its overall "playability" which is apparently improved in the latest version so may just appeal to the masses of mobile gamers out there. No doubt mobile gamers will give Panzer Tactics 2 a shot, but if it turns out to be like manoeuvring a tank through a mouse hole in complexity they will quickly be uninstalling it from their mobiles.
If HandyGames have got it right then maybe it will be fun driving a tank on a destruction course, but as yet there is little information available as to what Panzer Tactics 2 will bring to the war room, and to be honest the screenshot don't really promise enhanced graphics.
Source — pocketgamer