How good is newly released Google Maps for Mobile 2.1 for S60 smartphones?
We all love Google Maps and the main reason for this is because it works, it is as simple as that really. The latest Google Maps updates are that of the Google Maps for Mobile application for S60 smartphones.
No one new about this new update from Google, and trust us when we say we tried to find other blogs and news sources with this information, but came up with nothing. Well now finally we can safely say that there is a new update in the form of Google Maps for Mobile 2.1 for S60 being released, all we can say is good old Steve Litchfield from AllAboutSymbian with this information. Litchfield along with its readers found several new improvements which include as said Several speed improvements, Favorites sharing with other apps, including Nokia Maps and Route 66, Zooming in/out is slicker/clearer, Route junctions are shown with a diamond icon, Extra languages are supported plus the menus are tweaked a little bit.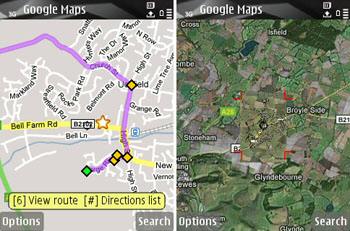 Please do let us know if you find anything else, but for now please download Google Maps for Mobile, all you need to do is simply point your S60 browser to www.google.com/gmm and then the rest is up to you.