Nokia Media Network joins with MOSH mobile content site for brand advertising
Nokia Media Network and MOSH (http://mosh.nokia.com), a mobile and online content consumption, sharing and creation service has teamed up to offer advertisers an opportunity to reach customers worldwide who download mobile content.
Vice president and head of Nokia Interactive Advertising, Mike Baker says: "We are committed to expanding the Nokia Media Network, which is growing rapidly in both reach and quality, so we can drive greater results for our brand advertisers. The MOSH audience, comprised of the heaviest users of mobile content around the world, is particularly desirable to many of our top advertisers."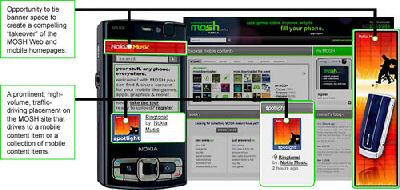 MOSH has released their "Spotlight" program which is basically a "paid placement" advertising initiative where advertisers become spotlight branded and placed above all organic search, browse, and contextual placements.
German based developer of interactive mobile applications, BLUE LION mobile, was one of the early uploaders to MOSH, and also a partner in MOSH's Spotlight program with BLUE LION's mobile software "qeep." Qeep being a Java based multilayered mobile social metworking app which includes free messaging, multiplayer gaming along with photo blogging.
Co-founder and managing director of BLUE LION mobile, Christian Schulte says: "We are very happy that qeep has been a pioneer of the Spotlight Program. Thanks to MOSH, downloads of Qeep have escalated significantly. We will therefore be expanding our participation in the Spotlight program."
Source — slashphone