New Apple device patent files could it possibly be the 3rd gen iPhone?
Couple of days to go until the Apple WWDC and the main event being of course the launch of the much awaiting Apple 3G iPhone, but Apple aren't the type to hang about and wait, oh no, they prefer to be busy all the way, and just to show they are they have just filed a new patent for what appears to be some kind of new future device that they are apparently working on.
Could it be yet another version of the Apple iPhone as we can see it appears to have a touch-screen and very similar menus, perhaps the third generation Apple iPhone already in the making? Though the obvious things of great note in this schematic are Flash, Quicktime and Windows Media.
Whatever this new patent device is, it will offer up MMS support, a blogging client, video client, voice command, video, GPS along with Java support.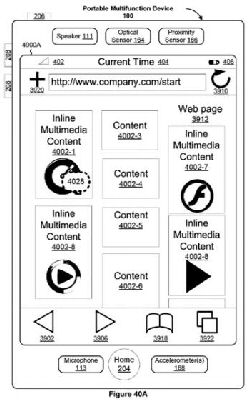 As for exactly what it represents, well I assume only Apple know the answer, and for that matter if it will ever be released. What is for sure though, Apple will be wanting something ready to attract the mobile world just as soon as the newness hype wears off of the Apple 3G iPhone.
So maybe this could be the first shot of Apple's new baby, what do you think? Possible 3rd generation iPhone waiting in the wings to grab media attention perhaps? Whatever, it is interesting to know Apple is still on the move.
Source — mobilewhack