Windows SlideShow announced by Microsoft for Windows Mobile Developer Preview
There have been rumours floating around; there have even been a few 3rd-party applications which have brought Windows Vista SlideShow technology to Windows Mobile mobile phones, however Microsoft has seemingly officially crossed over with the release of Windows SlideShow for Windows Mobile, although still in beta and not quite ready for mass market.
Microsoft's Windows SlideShow for Windows Mobile Developer Preview 0.01 is apparently an app for Windows Mobile 5 and Windows Mobile 6 Pocket PC's and smartphones, wwhich allows the user to use their Windows mobile phone as a Bluetooth SlideShow compatible handset.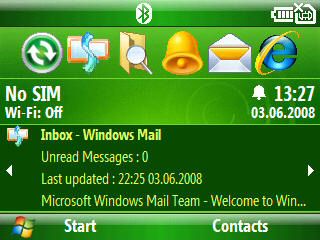 This in turn allows the user to use their mobile phone as an extra window into their PC. They can access their computer's info and control the computer through a gadget interface straight from their mobile phone, and while their phone is out of range or the PC is off, they will be able to still view content previously sent to the mobile handset.
At present the developer preview is only available in English along with only supporting Windows Vista Business, Windows Vista Home Premium, Windows Vista Enterprise, Windows Server 2008, and Windows Vista Ultimate Bluetooth-enabled PCs using Microsoft's Bluetooth stack, however, Toshiba Bluetooth stack is not currently supported.
One last point, Windows SlideShow for Windows Mobile needs a Bluetooth capable Windows Mobile 5 or 6 Standard or Windows Mobile 6 Pro handset incorporating installed .Net Compact Framework 2.0.
Want it? Get it from (here)
Source — the::unwired