Do you prefer RIM BlackBerry or Apple 3G iPhone 2: Specs or Brand?
There are so many fans of Apple and so many fans of RIM BlackBerry and the burning question is do you prefer Apple or RIM BlackBerry? Do you actually prefer brand or specifications when it comes to mobile phones?
Apple and RIM BlackBerry are two of the biggest companies in the world in the mobile phone industry and obviously at the moment many consumers, news groups and many others are looking for more information about the all new Apple 3G iPhone, We will not go on about today as you are well aware of the keynote speech happening later today, but we do want to know if you go for the brand or the specifications/features.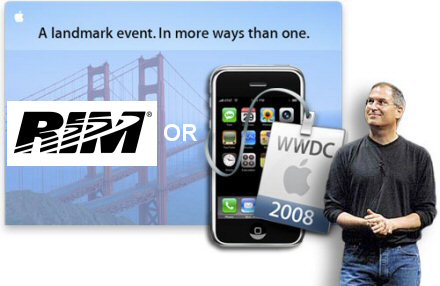 The Apple 3G iPhone or also know as iPhone 2 and many other smartphones have similar specs for example the BlackBerry Thunder which is a much talked about phone, many people do indeed choose either one or the other but why? Do you buy phones dependant on the brand, or do you buy phones dependant on the features?
Personally I have the Apple iPhone which I will no doubt trade in for the new one, we all know when BlackBerry devices are new people go and buy them, and when Apple release something new the same happens people buy them, but why? I personally go on brand and features; I personally do not like BlackBerry because their devices have never excited me in either design or appeal. Maybe I am missing out on something; I will never know I guess until I buy a BlackBerry.

Please do let us know why you choose one over the other?