Gosh the Nokia 6250 mobile gains a Caped Crusader makeover
Ok, now Nokia has got one for the superhero fans out there in superhero land. Not saying there's anything wrong with the Caped Crusader; not even saying there's anything wrong with the Nokia 6250 mobile phone, but put both together and "Gee Whiz Batman" you end up with the…(big elongated suspenseful drum roll)…
"The Dark Knight Edition" (Said in deep loud booming voice)
Yes, Gotham City's finest Caped Crusader is coming to a Nokia 6250 near you! The Nokia 6250 flip phone is close to release, and Verizon pushes off the part with "The Dark Knight Edition"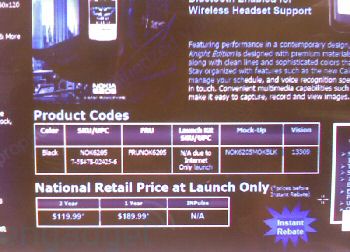 The Nokia 6250 "The Dark Knight Edition" (sorry just can't stop saying it now) will scream into the streets (via Bat-mobile probably) fully equipped with bat-utility-belt incorporating some "exclusive" content on, yes KA POW you've guessed it… the latest Batman thriller.
The Nokia 6250 "The Dark Knight Edition" brings the user (and I'm not going to put bat before everything) a 1.3 megapixel camera, Bluetooth, GPS, and EV-DO, but no bats. Somehow I'm thinking that maybe this won't exactly set Verizon's retail shops alight with sales; however it does mark new interest from Nokia in bringing good mobile equipment to the CDMA side.
Holy mobile's Batman, Keep an eye out for the Bat sign somewhere around 15th of June when "The Dark Knight Edition" will be released from the Bat-cave with a price of $119.99 tied up in a two year contract before a rebate.
Source — engadgetmobile