Nokia XpressMusic 5310 knocked off by Hop-On HOP1803 and heading for USA
Hop-On has unveiled a new mobile phone series of six mobiles the HOP1800 Series, and today we look at one of them, the Hop-On HOP1803 mobile phone. The HOP1803 is a candy-bar design which just happened to be the spit of the Nokia XpressMusic 5310. So we are guessing Hop-On simply put in an order for several mobiles from their local mobile manufacturer Shenzen, and forget to tell them to turn off the knock-off mode.
Anyway, that said, onto the NOP1803, it's tri-band GSM 850/900 or 900/1800 Mhz, a 1.5 inch display, FM radio, Bluetooth, supports MSN, MMS, JAVE and USB, has a full QWERTY keypad, and measures 96.6 x 41.6 x 15.9mm, and that's about it. Oh, and should be hitting Asia, Africa, North and South America, and the Middle East. Price wise all we know is it's advertise as ultra-low priced whatever that means.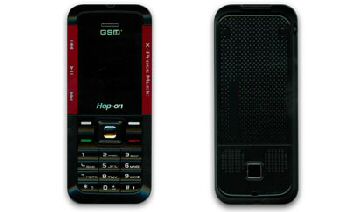 To be honest the Nokia XpressMusic specs runs rings round the HOP1803, so why not simply shell out a few bucks and grab a Nokia rather than a low spec rip-off. However the "X-Press Music" branding on the side of this fake may attract some legal challenge considering Hop-On are actually thinking about market this obvious rip-off in the USA! Have to keep our eye on that one for some juicy legal battle, so stay tuned in future for more.
Source — slashphone