Pre-pay option on Apple iPhone 3G in Portugal via Optimus
The guys over at Boy Genius Report have apparently be informed via reliable sources that Portugal based Optimus, a subsidiary of Orange is to offer the Apple iPhone 3G as both post and pre-paid options. This obviously now means Apple's revenue-sharing deals are well and truly out of the picture and have now made this possible.
AT&T have firmly stated they will not be selling the Apple iPhone 3G with any type of pre-paid option but is seems that other carriers are of a different mind, although don't expect AT&T to follow in others footsteps.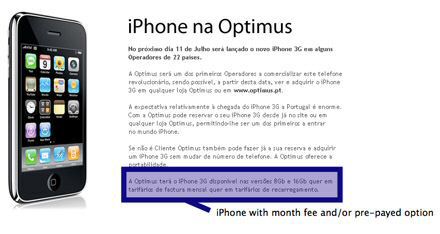 However, I wouldn't expect to see an abundance of low prices with a pre-paid version of the Apple iPhone 3G, as it is more than likely to fall in line with the unlocked prices reported earlier, roughly 8GB iPhone 3G = 499 Euros and 16GB iPhone 3G = 569 Euros.
My personal view is why not have pre-paid options? Many people just don't like the idea of being confined to a long contract with their mobile phone, they like the option to e able to change or upgrade as and when they like, and maybe it's those people who Optimus is trying to target with its pre-paid option.
The first generation Apple iPhone's outing to Europe gave mixed success, hopefully with Optimus' pre-paid option the carrier and end user will gain more freedom and the Apple iPhone 3G will fare better. Let's wait and see.
Source – BGR