BlackBerry Javelin is not fake: Rumours smashed, looks crap though
The BlackBerry Javelin which was a mobile smartphone under the "Rumour" list is in fact real and not fake, and the picture proves it here thanks to Engadget.
The BlackBerry Javelin has indeed been in development and obviously it has to be true because Engadget has their mitts on it, personally I do not like the look of the Javelin but that is my personal opinion. Then again I say that about most phones for example the iPhone then end up loving them, apparently the BlackBerry Javelin will look a little more conventional than that of the Bold with a keyboard and a non-chrome trim like the 8800 series. Apparently and we say apparently until it is for definite the BlackBerry Javelin will feature EDGE-only access but should keep the 480×320 display as well as GPS and Wi-Fi, which means it will not have 3G like the Bold.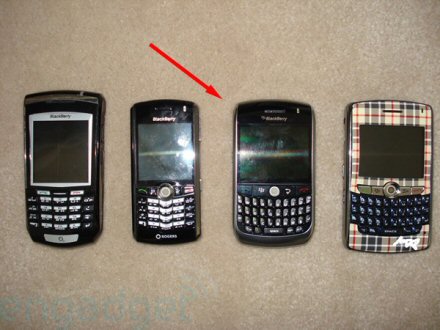 Other Javelin features will include a 3.2-megapixel camera, standard headphone jack and the latest BlackBerry Operating System. So it looks like the Javelin will not be thrown far when it comes to the speed of the internet seeing as it has not got 3G, release will be in 2009 sometime, may see the Javelin launch with T-Mobile in the US. So what do you think of the new BlackBerry Javelin? Oh my thoughts go towards the Bold.