A P please Bob? Blockbusters comes to mobile phones: video
Can I have a "P" please Bob? Okay well maybe that might ring a bell with us folk in the UK more than any other country, as I'm not too sure this game actually made it over to Europe or anywhere else in the world. But I'm sure most will remember Blockbusters game show on the TV.
Those who do may like to know that Player X's "Blockbusters: Football Edition" is now available to download to your mobile phone. Player X have taken the Blockbuster format and added the context of Footie questions for all you footie crazed mobile gamers out there.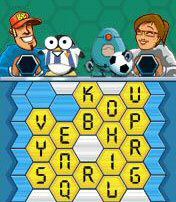 As a reminder, Blockbusters was a very popular gameshow with the 5pm slot on UK TV, a two person team who ganged up on a single player and selected letters from a honeycomb grid, the object of which was to cross the grid to win. The ever grinning Bob Holness was the show's host, it had catchy game show music, and the famous line…"Can I have a P please Bob?"
Well mobile gamers, and those especially in the UK, you can now have a "P" on the move with this fun mobile game that includes a Quick Mode to get straight into the action, as well as Challenge and Marathon options that let you unlock more characters and mascots.
Oh, just in case you can't remember Blockbusters here's a video, reminisce and enjoy
Source — pocketgamer