AT&T to gain Samsung i788 soon? Quite possibly
Seems there is a rumour running round that at an AT&T meeting of store managers they began showing off their latest gear, apparently one couldn't help but pull out a BlackBerry Bold and flash it around while another apparently had a bag full of mobile phones.
Most interesting of which was the Samsung SGH-i780 that is destined for AT&T, although it will probably be the Samsung i788 that AT&T will be launching due to it having the requisite frequency for the US. But apparently the rep said the Samsung i778 was not released yet, which could well be interpreted as being "in the pipeline."
The Samsung i780 was at CTIA Las Vega 2008 and was running Windows Mobile 6.1, so if the Samsung i788 does eventually go to AT&T it will probably be running the latest Windows Mobile OS.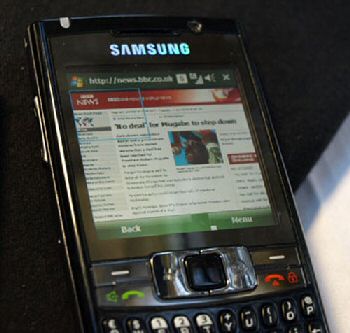 The Samsung i788 has a bit more heft to it than say the Samsung BlackJack II, which is only to be expected as it is packed with GPS, WiFi and 3G, and basically the Samsung i788 is what the Samsung BlackJack should have been.
Apparently the word doing the rounds is to look for the AT&T branded Samsung i788 mobile phone to drop around about the same time as Research In Motion's BlackBerry Bold, and of course the Apple iPhone 3G, which means I guess we're looking at around July 11th ish.
Source — wmexperts