CommunicAsia 08 seen the KS360 QWERTY slider from LG: video
CommunicAsia brings us a new QWERTI slider mobile with the LG KS360. It made a loud appearance at CommunicAsia with its bold colour yes rather freaky red and black colour. The LG KS360 features a slide out QWERTY keyboard along with a 2 megapixel camera, Bluetooth, 2.4 inch QVGA display, FM radio, is tri-band GSM/EDGE and has globular style controls to make the high end of the market.
The LG KS360 is headed for the Asian market and destined for a pocket friendly price tag no doubt in the land of optional 3G and inoffensive industrial design. Sliding QWERTY's is fine but do they have to be so difficult to look at?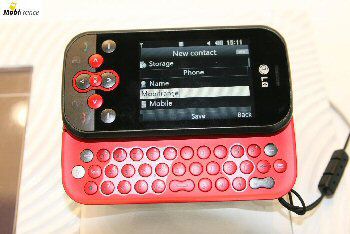 To be honest I can't see anything exceptionally new with the LG KC360 other than the sickly colour much the same as most QWERTY sliders already floating around so no real biggie unless you prefer the garish style of mobile handsets. The LG KS360 has recently received filing and approval from the FCC so looks like anyone interested won't have to wait much longer.
For those of you that just may have an interest in acquiring the LG KS360 QWERTY slider, we have a video for you to view, just to let you know what it's like. Price wise, I can't seem to locate any, so as soon as we know we'll pass it your way.
Source — unwiredview