Mobile Mail Work from Sprint brings non-PDA handsets corporate mail
A tad jealous of your co-workers with all their BlackBerry mail, instant connectivity, and push mail? Well it appears Sprint is about to take care of that for you via their Mobile Mail Work, which is a push mail solution for non-PDA mobile handsets.
Sprint is to launch the Mobile Mail Work on the Samsung Instinct which brings the user easy access to Microsoft Exchange Server and IBM Lotus Notes accounts will be available through Sprint Mobile Email Work, as an extension of Sprint Mobile Email's existing access to personal email accounts from popular Web-based providers such as Yahoo! Mail, Gmail, AOL, and Windows Live.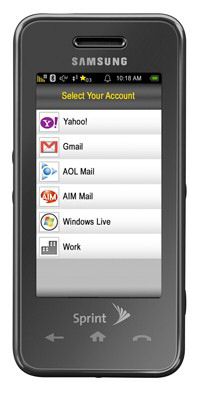 Senior vice president of product and technology development for Sprint, Kevin Packingham, states: "Sprint Mobile Email Work will allow customers to read and respond to their business email and look up work contacts from a wider variety of Sprint phones, including the new Instinct. With combined access to corporate and personal email in a single application on popular consumer-friendly phones, Sprint customers can increase productivity and stay connected whenever and wherever they want."
So what will all this Sprint mail goodness set the user back? Apparently it's free for users on Everything, Vision Pro packages, Talk/Message/Data share, while all others will be able to climb aboard for $9.99 per month.
The required software will become available for download from Sprints mobile web downloads with support for eleven more sets in the coming weeks.
Source — Sprint