New store format for PC World as Carphone Warehouse and Best Buy join forces
A new store format is being trialled by PC World and will be increasing its range of mobile products before the arrival of the "Big Box" collaboration between the Carphone Warehouse and US retail giant Best Buy. Currently Carphone Warehouse is identifying and negotiating rates with landlords in retail parks for its first sites with the Big Box format.
It is expected Carphone Warehouse will go head-to-head with PC World and their sister company Currys Digital in the electronics and PC market sometime in the second half of 2008. PC World's Enfield store has had numerous mobile products added to its range, and has replaced its traditional 'racetrack' layout with a grid system, which includes one central aisle running down the middle of the store.

The UK's electrical industry expects the assault by Carphone Warehouse and Best Buy sometime around autumn, and property experts have predicted that flat property prices will help the joint venture achieve a swift rollout of stores.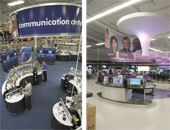 It is also expected that US Best Buy will have somewhere in the region of 200 large out-of-town stores across the UK by 2009, varying in size from 20,000 sq ft to 30,000 sq ft superstores.
Increasing their mobile device range, PC World added T-Mobile dongles to their range of Vodafone and 3 mobile broadband modems, with deals on prepay and contract and 30 days notice, earlier this week. Furthermore PC World is offering customers £350 off laptops across their entire range if they agree to sign up for up to an 18 month £35.00 deal with 3.
Looks like we may be seeing a price war on the horizon between PC World and Carphone Warehouse/Best buy, which can only be good news for the consumer.
Source — mobiletoday