CommunicAsia and Coolpad showcase a dual SIM dual-band mobile phone
The clever guys at Coolpad have reportedly constructed a mobile phone which is actually multifaceted like no other we know of, a mobile phone that not only carries two SIM cards, but two radios as well, a GSM and an CDMA.
What's more is this unit can apparently switch between GSM and CDMA accounts at a whim, something that makes one wonder why this hasn't arrived before you forked out for that second mobile handset. Coolpad phones are claiming to be the first in the market with dual-SIM devices that not only work with more than one network, but can even switch between GSM and CDMA accounts without batting an eye.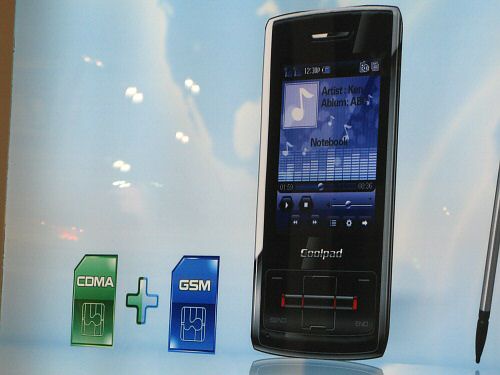 This dual SIM, dual-band, Coolpad mobile is supposedly selling from anywhere between $100.00 up to a staggering $1,000.00, depending on which model and probably just who you know on the inside. However, if you want one then get your trekking boots on because you can only grab it in China, Africa, and Indonesia.
Just why the price range is between $100.00 and $1,000.00 is beyond me, yeah it's got two SIM's so has a few other phones, so ok it can switch between GSM and CDMA on a whim, still doesn't account for the vast differences in price does it? I mean, why would someone pay $1,000.00 for something that has gone for $100.00? Anyone care to share an answer or two, contact me.
Source — asia.cnet