RIM BlackBerry Bold 9000 and Rogers Wireless Launch Event Party in Canada: iPhone who?
The Apple iPhone 3G is coming on the 11th readers but it seems RIM Blackberry do not give a damn, fair play to them. We all know that many Canadians are waiting for July 11th for the long awaited Apple iPhone 3G but it seems the business minded person may be a little more interested in the latest mobile phone from Research in Motion (RIM).
Yes we are talking about the awesome Blackberry Bold 9000; people want to get up close and personal with this beauty so Rogers Wireless and Research in Motion have sent out many invitations for the Bold Event across the country. The new launch event tour for the what people call sexy BlackBerry Bold starts in Toronto on July 8th then will move onto Montreal on July 9, then they will move on towards Calgary on the 15th and last but not least moving onto Vancouver on the 17th.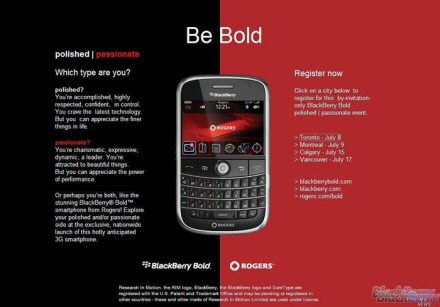 The funny thing is there are no release dates as of yet in Canada for the RIM BlackBerry Bold 9000, so you can see why they are upfront by promoting this mobile phone heavily next month. All we know is that the release of this handset is close around the corner so keep coming back here for updates.
If you live in Canada please let us know if you are excited about the BlackBerry Bold 9000?
Source – MobileSyrup