It's a case of the vanishing Motorola Q9 and Q9c from Sprint are they gone for good?
It seems a couple of mobile handsets have been misplaced by Sprint, so firstly you must remember this isn't the first time mobile handsets have just up and walked off the Sprint website only for them to miraculously reappear a couple of days later. Saying that there does appear to be a loud buzz from quite a few Motorola Q9 and Motorola Q9c users who are presuming the handsets are gone for good.
As it is, at present neither the Q9 nor the Q9c are listed on Sprint's website, also there are net whispers that discontinuation of both mobile phones has been confirmed by an undisclosed number of Sprint representatives. However no official word from Sprint, or anything official leaked out yet.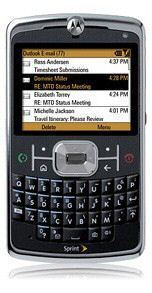 So maybe Sprint is just simply doing a bit of website housekeeping and has removed both the Motorola Q9 and Motorola Q9c to get their pages a dusting, and will simply put them back on at a later date. Or maybe they have decided they have had them long enough and it is time for them to step aside for some newer mobiles they are near release.
The curious thing is though; Sprint only posted the Windows Mobile 6.1 update for the Motorola Q9c earlier this month, so it would appear a bit strange for them to just up and dump it, maybe there's hope for the Q9 and Q9c waiting in the wings after all.
Source — geardiary