Apple roundup: Apple readies AppStore for submissions and iTunes remote?
Finally, the much rumoured iControl has made it past all the internal delays, politics and feature cutbacks to actually survive to a summer release. Apple has released iTunes 7.7 to developers and the installer encourages iPhone and iPod touch user's to "use the new Remote application for iPhone or iPod touch to control iTunes playback from anywhere in your home — a free download from the App Store."
Unfortunately there are no more details, but it will no doubt use Wifi to link with your mainframe, and it isn't clear if the "iControl" name still stands. So it's wait, and see just how this one develops, but with all the net whispers and titbits flying around one could assume the iPhone and iPod touch will soon become remote controls.

Also of note is Apple has also released Beta 8 of their iPhone SDK, and has combined this to kick-start acceptances of apps to the all important Apple AppStore readying for the 11th July launch.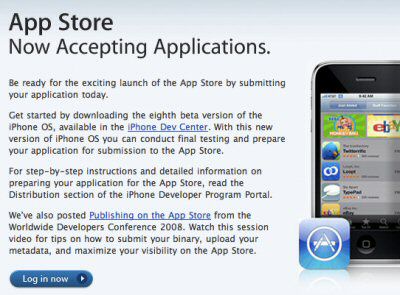 Quote: "Get started by downloading the eighth beta version of the iPhone OS, available in the iPhone Dev Center. With this new version of iPhone OS you can conduct final testing and prepare your application for submission to the App Store."
Just so you know, it appears you require Beta 8 to complete the process, so don't jump the gun just yet!
Source — macrumors & macrumors