RIM Media Sync Software works with BlackBerry Desktop Manager 4.5
The RIM BlackBerry Media Sync Software for iTunes makes a little appearance just for you, Nanu has been investigating and their reporting has found the link to RIM's BlackBerry Media Sync Software.
The BlackBerry MediaSync application seems at this point to be a stand-alone app that will work with the official BlackBerry Desktop Manager 4.5, so it seems that RIM are kindly hosting this file on Akamai's Edgesuite servers for rapid deployment which you can see here. All you need to do is simply install and sync, apparently it managed to sync 260 songs in about 10 minutes which is pretty good with all album artwork transferred plus all songs/artists/albums stored and handled which were all correct by yes you got none other then BlackBerry. It has made an appearance but seems to appear then disappear, after it made its appearance on the official RIM servers it got pulled from general availability.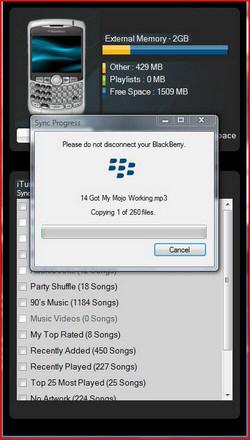 Does anybody know about this, what could we expect and do we really need it are some of the questions that people want answered, oh and of course the official appearance would be good. We here at Phones Review think this would be great and want to learn more about it, but guess we will have to wait.
There is no word on when we will see the official appearance.