US Footie fans cheer as Gamesloft releases NFL 2009 mobile game
Gamesloft keep coming and coming with new releases on mobile games, and now they've got the license and are releasing the mobile game with all 32 NFL teams, stadiums, players of the 08-09 season and detail stats.
Mobile gaming fans, especially American footballs game fans, NFL 2009 from Gameloft has arrived!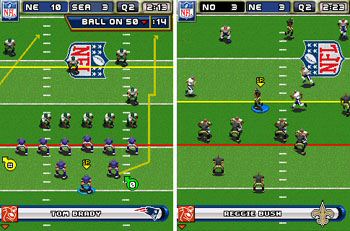 Yes mobile gamers, NFL 2009 brings a brand new experience in NFL to mobile phones by offering the gamer ultra realistic game plays which have been enhanced by AI and the most realistic, largest 2D models available to date.
With Gameloft's NFL 2009 the gamer will be able to manoeuvre their players with impressive defensive and offensive playbook tactics making sure their chosen team makes it to the end zone.
The gamers' total immersion into NFL 2009 will intensify as fans and cheerleaders root you on in your quest and compete in football stadiums across the United States.
We haven't tried out NFL 2009 as yet but it is available already across most American carriers. Check out whether you can gain NFL 2009, just text "QV" to 82174.
Source — intomobile