Vodafone late with what we all knew while O2 will deliver iPhones?
The net wave rumours have been proved correct once again as Vodafone go public with the knowledge most already knew that the first Apple iPhone 3G will be sold in New Zealand at 00:01 local time on the 11th of this month.
The Vodafone site actually announces:
Hi,
This Friday 11 July at 00:01, the new iPhone 3G hits the shelves in three Vodafone stores nationwide.
They are:
Vodafone- 171 Queens St, Auckland City
Vodafone — 358 Lambton Quay, Wellington
Vodafone — 681 Colombo St, Christchurch
The iPhone 3G will be available in other
Vodafone stores from 9am, check out the stores map for locations. You'll also be able
to buy from the Vodafone Online Shop on
Friday 11 July at 00:01.
The iPhone 3G starts from $199 on a two year contract. We'll be releasing full price and plan details tomorrow at 10am, Tuesday 8 July 2008, at vodafone.co.nz/iphone. Stocks are strictly limited.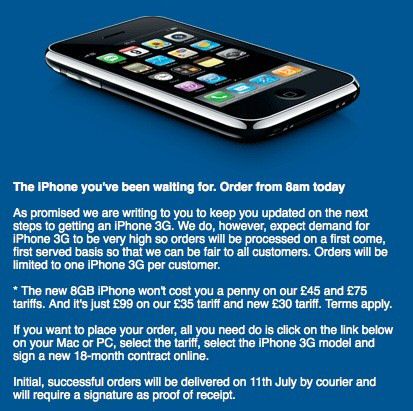 Other Apple iPhone 3G news is that in the UK O2 is accepting pre-orders of one per customer on the first come first served basis, and…Now get this! Your new Apple iPhone 3G handset will be delivered to your home on the 11th July by courier whereby the new owner can activate their shiny new 3G goodness via iTunes.
Now isn't that just so good of O2? Wonder just how much that little exercise is going to set O2 back?
Source — engadgetmobile