Milliamp new iPhone accessory the Portable iPhone Charger: Video
Milliamp has announced their new Portable iPhone Charger, a new easy accessory for charging your Apple iPhone. Incorporating a 2200 mAh battery inside the charger's svelte plastic casing.
The 2200 mAh battery is more than enough power to charge the iPhone's 1400 mAh battery, and the Portable iPhone Charger is small enough for you to carry it in your pocket or briefcase.
Millamp employees tested the Portable iPhone Charger on their own iPhones and they didn't want to hand it back. The charger has a hinge which allows the iPhone handset to be propped up while on a desk or it can also be folded up to keep the iPhone perpendicular to the base.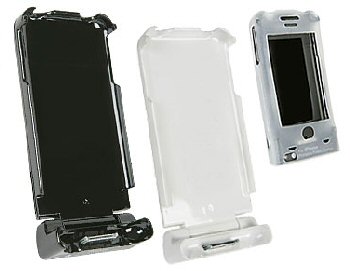 The Portable iPhone Charger comes with USB and once charger is ready to go. The charger is available in two colours either shiny black or white, and includes a clear neoprene cover which slides over the complete unit for protection.
One satisfied customer from New Orleans says: "I love the new portable iPhone charger you sold me. It charges up my iPhone quickly and I love the fact that I can use the phone when it is docked in the charger. I got the white one but I am thinking of getting a black one just to mix it up a bit. All joking aside, this is a great little charger and I will be sending my friends to your site since I haven't seen anyone else that sells such a compact and powerful charger for the iPhone at this price. Thanks!!"
Video for your viewing pleasure is below.
The Portable iPhone Charger commands a price tag of $39.99.
Source — ipodjuice