Palm Centro price dropped to $69.99 by AT&T
Moving away from the debacle of iPhone 3G day, which no doubt will be the bane of discussion for some time, AT&T does actually do other mobile phones, and ones that don't die immediately; they are pushing their low end smartphone to those palm lovers out there.
Following quickly on the heels of the release of the Electric Blue Palm Centro on AT&T's network, AT&T has announced an upgrade to prices on all Palm Centro mobile handsets.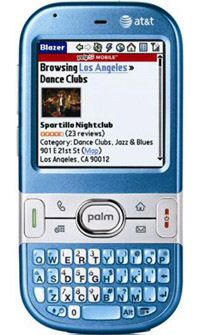 From September 20th onwards, AT&T's Electric Blue Palm Centro along with all other Palm Centro purchases will by requiring a two year contract which will get you the Palm Centro for $69.99. There is of course a mail in rebate that you would need to do to gain the $69.99 price, but then that's par for the course.
Dropping the price of Palm Centro's, hmm well at least it's in the right direction. Now if maybe AT&T handed over some free compensation credit for recompense to Black Friday (iPhone day) maybe they would gain the confidence of customers again.
Source — intomobile