Palm Treo 800w from Sprint an alternative to the iPhone?
Sprint's Palm Treo 800w is for some reason not receiving the regular launch, you know the type of this, sweetener press release and all the trimmings. We only keep seeing rumours and whispers appearing on the net about presumed release dates and prices.
The Palm Treo 800w was due to hit stores 13th July and so appears to be available from Sprint online as of now.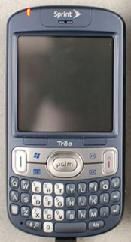 There has been tales of unofficial Treo sales earlier from Sprint with the rumoured prices being $350.00 on a two year contract and $600.00 excluding any plan.
If you go online you can get a Palm Treo 800w from Sprint for $249.99 on a two year contract and after a $100.00 mail in rebate.
That roughly runs in-line with what we've all been hearing before, and well if you simply don't want to own the new Apple iPhone 3G, or the Samsung Instinct, or if you are fed up waiting for a new BlackBerry of HTC Touch Diamond, the Palm Treo 800w makes a good alternative.
Source — mobilewhack