Voice command tunes on iPhone and iPod with Muso by DirectVoxx
DirectVoxx's "muso" is a small pocket sized iPhone and iPod accessory which allows the user to access music with natural voice commands. The muso sync's with the user's iTunes library direct on first use and doesn't even require teaching to understand voice commands such as "Play me some Led Zepplin."
With muso it is as easy as asking, "How about some Rolling Stones" or "Go to my Broadway Tunes list" or "Gimmie Jazz" and even "play me something like that last song" the muso acts as a personal DJ and creates a dynamic playlist.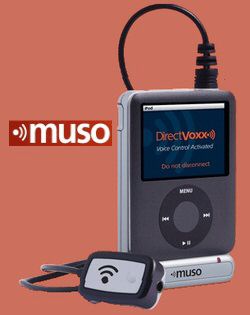 DirectVoxx's muso is totally portable and self powered with a battery that lasts up to the hours under normal operating conditions according to DirectVoxx. While inside the muso box the user will find a sync/charge cable, backpack or ski jacket whichever you choose, and remote control for keeping your iPhone or iPod secreted in your pocket or bag.
You can pre-order the muso from DirectVoxx which will be filled in December 08 at a price of $159.00 US.
Source — macdailynews