Hands on Review: MixMeister DJ Scratch App for iPhone
I installed the MixMeister Scratch app which is a DJ Scratch App for the iPhone, the first 15 minutes was fun then I got bored with it.
Let me tell you a little bit about this app, it is the first DJ program for iPhone and iPod Touch. MixMeister Scratch is totally free which is good, so even if you do only play it for ten minutes then get bored it has not cost you anything, so no losses really.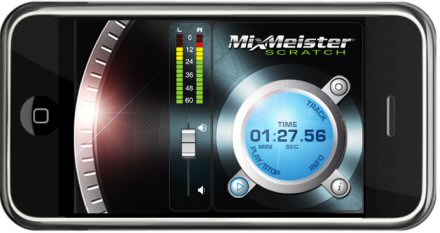 The app allows you to scratch anywhere any time, all you need to do is play a song from you iPod on the iPhone then open MixMeister Scratch, choose one of the collection sounds within MixMeister Scratch and scratch away.
You can adjust the volume of the music in real time which is pretty cool, the key features of this application includes Scratch on top of any song on your handheld, Control song volume from MixMeister Scratch, Apple-approved for iPhone, iPhone 3G, and iPod Touch, Comes with authentic vinyl scratch sounds and is totally free from iTunes App Store.
This is definitely an app for those who like scratching, for me it was boring and have deleted it of my iPhone.
Let me know if you like MixMeister Scratch and why, of course if you do not like it we want to know why as as well.