Apple iPhone iPod Touch turns into wireless data backup with DataCase
Ever need a wireless back-up drive? A new application for the Apple iPhone and iPod Touch has been launched which will let you turn your mobile phone or music player from Apple into a wireless back-up drive and is called DataCase.
The new DataCase application is due out at July's end and says it allows the user to keep files and access them wherever and whenever the user requires, on any available computer be it Mac, PC, or Linux, and with no server or upload program configuration required.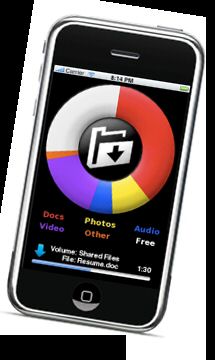 DataCase lets the user drag and drop files to the Apple iPhone and iPod Touch and then view their video, audio, images, and documents. Veiosoft, the makers of the DataCase application say users of this app will be able to view Word Excel, Powerpoint documents and also PDF.
Apparently the user will also be able to create up to sixteen volumes to separate their data and will be able to set permissions such as browse, read, write for each or simply make them appear invisible to everyone but the user.
Source — pocket-lint