International Herald Tribune optimises for Apple iPhone and iPod Touch
Yes well maybe this isn't quite a native app for the iPhone, but as it is a major news publication we think it deserves a little coverage. This is an Apple iPhone optimised version of the International Herald Tribune's website.
Yes I know non-native stuff is kinda out these days but this is a major news site that have gone out and optimised their site to suit the iPhone. It can be located at iphone.iht.com and is fully optimised to work with Safari on your iPhone and iPod Touch handsets.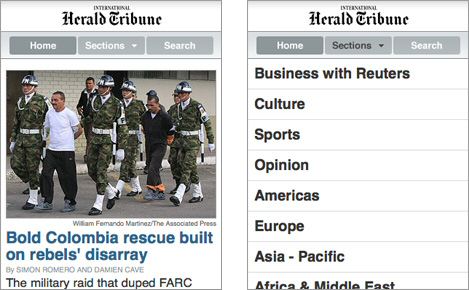 Users will find that virtually all the content from the regular IHT.com website will be on the optimised format, the IHT developers even wanted to make the users experience as iPhone-ish as possible, and to do so the developers disregarded the regular HTML pages and constructed the entire new website using AJAX.
Resulting in a speedy and responsive iPhone optimised news website to keep iPhoner's abreast of world news.
Source — moconews