Gekko? Aspen? Gecco? No it is the Sidekick 2008 available July 30th
We all know T-Mobile has been playing the name game with the new Sidekick for quite some time now; it has been called the Gekko, Aspen, Gecco, and even Sidekick 2008 along with many, many more unforgettable monikers.
Well, at last it seems someone at T-Mobile has made their mind up as it is now been officially decided it will be called the Sidekick 2008, yeah very original, bet that took some real brain power and long overtime hours to conclude!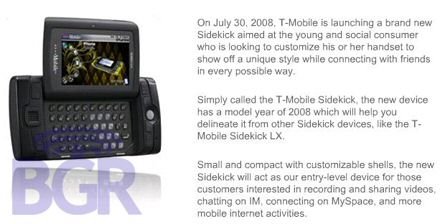 The Sidekick 2008 from T-Mobile has a 2 megapixel camera, interchangeable shells and a 2.6 inch WQVGA display, but as it is an entry level device we reckon it won't be putting a strain on anyone's back balance.
Apparently, the Sidekick 2008 mobile will become available on July 30th though no pricing has been given.
The July 30th release kind of puts the breaks on Best Buy's July 27th date thought doesn't it?
Source — BGR