RIMs BlackBerry taking hits from Apple iPhone 3G
According to Charlie Wolf, an analyst at Needham & Co, Research In Motion's strength within the consumer market "is bound to come under siege because of the iPhone." Thus Wolf lowered his 2008 earnings estimate for Research In Motion from $4.05 a share down to $3.70 a share, and also reduced his outlook to profit from $6.25 per share down to $4.80.
Research In Motion recovered from earlier loses by almost 5% a rise of $5.15 to close at $111 while Apple continue to rise $3.17 per share to close at $172.81.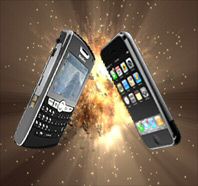 Wolf states that up until the new Apple iPhone came out much of RIM's BlackBerry success was due to lack of compelling offerings from rivals for consumers. He points out that BlackBerry's growth rates over the past two years showing how easy RIM claimed the smartphone sector for itself.
The introduction of RIM's BlackBerry Pearl mobile phone converted even more which helped RIM turn back efforts from Samsung and Motorola. However with the arrival of the Apple iPhone 3G, Wolf says "the days of no competition are over."
Source — marketwatch