Desperate for a Sidekick 2008-Gekko? Look on craigslist
So are you desperate to get your hands on a Sidekick 2008, for those that don't know, it used to be known as the Gekko. So you've got a wad of cash but just don't know where to get hold of a Sidekick 2008 and just don't want to wait any longer.
Well it appears that some guy is selling on craigslist, all you need to do is make him a big enough offer and he just might sell it to you. So here are a couple of in the wild snaps to keep you happy until you can actually get hold of one for yourself.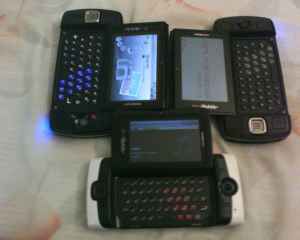 One thing is though this "Gekko/Sidekick 2008" has a blue keypad which probably means they are actually trail handsets, meaning mobile handsets given to people to test run before release.
Here's the actual craigslist post, make of it what you will.
SideKick Lx + Gekko – $250400 (alameda)
Date: 2008-07-15, 10:53PM PDT
ATTENTION SERIOUS NO JOKE
New Sidekick LX(BLUE)
W/ Video Capibility.(365)
Also Able to Record Own Ringtones!
Condition:9/10
Comes With Charger, Case, etc.
If interested Please Write Back.
AIM;############
510-###-#### Call/TXT
Don't Be Afraid to ask questions. I will not deny you!
Serious Buyers please
s0 be one of the only people!!
Also Have A Regular Brown Lx. In okay Condition! Not the Best but still usable!< —(250) Third Phone is the " SIDEKICK GEKKO!"n0t f0r sale unless a Big Offer c0mes! (400)
ALL PHONES COME WITH HOME CHARGER USB AND ALL HAVE SCREEN PROTECTORS
Also interested in Electronics: IPODS, PS3, XBOX 360 ETC + $$$$
I wonder if he actually realizes he's not meant to be selling these on.
Source — hiptop3