Hands-on review of the Juicejack universal mobile device charger
We've all been in that situation whereby we've been out and our mobile phone goes dead due to forgetting to recharge it before going out. Maybe you are in a bar, you ask if they have a charger you could borrow and they don't, so what can you do, not much, probably have to wait until you get back home to recharge.
However, what if there was a device available that could be placed in every bar, restaurant, nightclub, and street café, a device that which is a cheap universal charger that not only can charge mobile phones but any device that uses a USB or microUSB.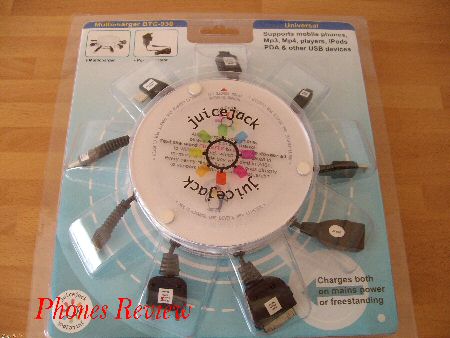 Such is the concept of the Juicejack; simple put, the Juicejack is a universal charger with its own internal power source that could be kept at bars and cafes or unplugged and taking to a table to charge the device.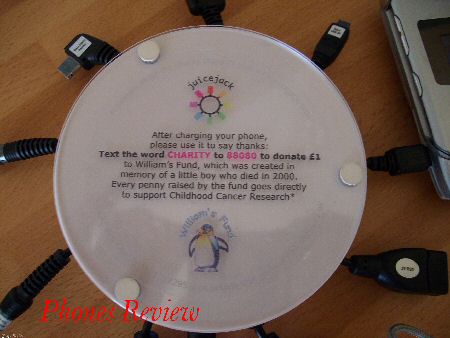 The Juicejack is a circular juice pack with nine differing plugs which connect to mobile devices ranging from the Apple iPhone and iPod series to the LG Chocolate series, from Samsung D800 series to Motorola V3 series and a couple of Nokia series as well. There is also a standard USB port along with a microUSB, so the Juicejack can virtually cover just about any mobile device out there.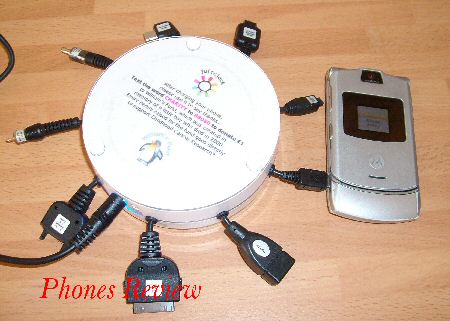 I found the Juicejack a not too cumbersome device that when plugged into the power supply can be easily placed somewhere out of the way to charge away, it emits a blue light round its centre when plugged in so is visible seen when on.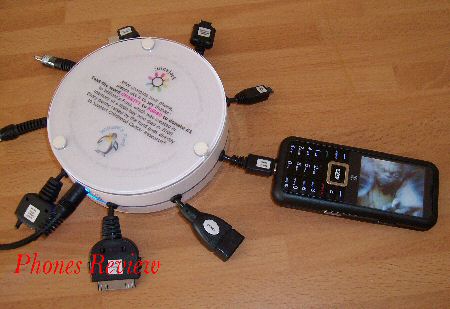 There is a tiny switch to turn it on and off that one needs a pen or other device to operate but this is due to not wanting it to be accidently turned off and thus always have the power there ready to charge the mobile device. Charge time wise, I found the Juicejack to take round about the same time to charger a completely dead Motorola RAZR as its own charger.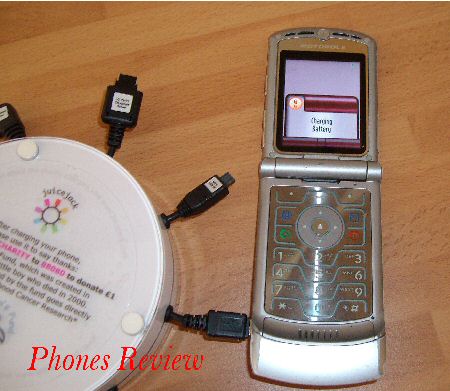 The view is to get Juicejack into as many public pubs, shops, cafes, restaurants, nightclubs and such as possible so no matter where you are if you need a charger one will be at hand. The other superb idea with Juicejack is that when using the Juicejack printed on the top is a text number whereby you can text the word charity to 88080 and you will have donated to William's Fund, which is a worthy cause where your £1 will support Childhood Cancer Research. The hope of the company is to be able to raise £1 million to charity every month, and if the Juicejack can get into all the public places I see no reason why that isn't possible.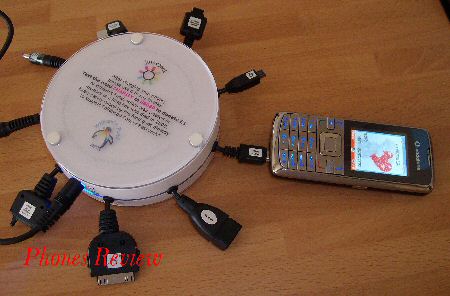 So just think, being able to charge your mobile device anytime, anywhere, and the ability to donate £1 to charity while doing so, can't be a bad thing.
All in all, I found the Juicejack a neat and clever charging device that not only would be of great advantage to have in places around town for that emergency charge-up, but would work ideally as a home hub if the family uses differing mobile phones or other devices.
For more information visit juicejack.com