Microsoft release new Windows Live Client for those lacking mobiles
Most Windows mobile phones come pre-installed with Windows Live and Windows Live Messenger, however what if you actually purchase a mobile phone that doesn't carry these popular applications pre-installed?
Well Microsoft has realised this potential problem and as usual wanting to make sure everyone has access to their applications they have released a new Windows Live client for Windows Mobile smartphones.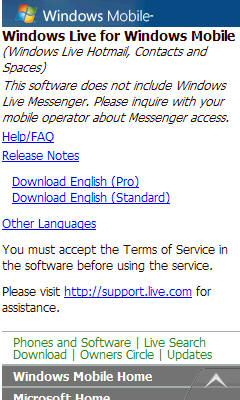 Whether you want Windows Mobile Standard or Windows Mobile Professional, Microsoft has you covered by making this version available to both, thanks to the un::wired for posting the information.
Users who use Windows Live Mo0bile Client will find, synchronize Live Email (MSN, HotMail, Live), Synchronize Live contacts with contacts on their devices, respond to emails with voice recordings, view graphics, web links and contact photos in emails, upload photos to Windows Live Spaces.
Although it is a shame that Windows Live Messenger Mobile Client has been left out of the package for some reason.