Track vehicle performance with iPhone apps g-tac and Dynolicious
For those of you who own an iPhone and love to take your car for a spin, two in-vehicle performance meter apps are now at the Apple App Store, which allows the user to measure virtually every important aspect of your vehicle's performance.
Intomobile reports that the g-tac and Dynolicious applications are new available. Dynolicious uses the owner's iPhone or iPhone 3G accelerometers to bring up the important performance stats.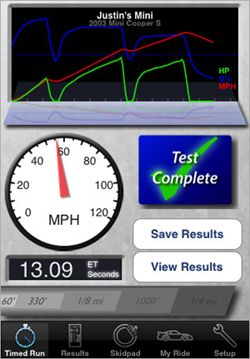 With the Dynolicious application you track vehicle performance over a period of time, and it also allows you to track performance gains after each modification. Dynolicious will cost you $12.99 from the App Store.
Swiftly moving on we have the g-tac application, g-tac doesn't offer the user all the features of Dynolicious, however if high speed racing round your local private track is you kick, then g-tac will fit in nicely.
Priced at $4.99, g-tac will record drag times and stopping distance data using the iPhone and iPhone 3G accelerometers and is also available from the App Store.