Google Maps-Transit Direction available for Windows Mobile and Symbian: video
Not so long ago, Google released Google Maps for mobile incorporating Transit directions for the BlackBerry and Java based mobile phones. Now Google are bring the very same feature to Windows Mobile and Symbian S60 mobile handsets.
Google Maps incorporating Transit directions will help users take advantage of the available public transport in over fifty countries, according to a report on Google Mobile.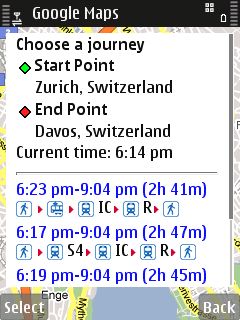 Along with Transit direction, the updated Google Maps for mobile also features "star-rating" for businesses as well as user generated mobile content which will pop up in search results and thus allowing the user to view what real ordinary people think on a particular place or business.
I've attached a video demo of Google Maps for mobile with Transit direct for your viewing pleasure, and so you can make your mind up if you think its something for you, as I'm sure you will.