Apple approve Belkin TuneCast Auto for iPhone 3G
Belkin has announced their current TuneCast Auto for the Apple iPhone and Apple iPod will now also work with the new Apple iPhone 3G handset.
What Belkin are saying is that basically the TuneCast Auto has passed the certification testing which is required by Apple's "Works With iPhone" program.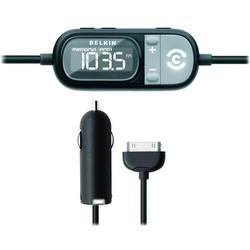 Thus it is now possible to use the Apple iPhone 3G along with the TuneCast Auto to listen wirelessly to your songs on your Apple iPhone 3G via your vehicles FM radio, so no more need to pull over and stop to change your tunes..
Belkin's TuneCast Auto, features ClearScan technology so will automatically scan for the best FM frequency available and play your music from your iPhone 3G handset.
Belkin TuneCast Auto claims to bring a clearer crisper sound at a single push of a button, and is available to purchase for the price of £49.99 from their website.