Vodafone UK launching the HTC Touch Pro this month?
Vodafone expects to launch the HTC Touch Pro this month according to their online store, although this could be wishful thinking on their part, but I guess they covered themselves if it doesn't happen by the "Expected".
The HTC Touch Pro had all the style and elegance of the HTC Touch Diamond but incorporates a sliding five row QWERTY keyboard as well for those heavy messengers out there in text city.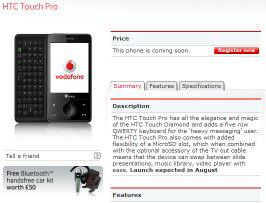 Personally I can't see Vodafone putting that "Launch expected in August" without some little tip off from HTC that the HTC Touch Pro could well be with them this month. Maybe they have a hot-line with HTC and are whispering on a daily basis, so keep an eye on that product page to see if it disappears.
Always good to see a notice of impending launch on a carriers site, now if there are any other carriers out there who would like to do the same you won't hear any complaints from us.
Source — coolsmartphone