Do you know why T-Mobile isn't promoting their 3G network?
We are wondering why T-Mobile isn't shouting from the rooftops about their upcoming 3G network, they should definitely be promoting it to death, and along with that they should be promoting compatible mobile phones as sporting 1700Mhz 3G frequency support.
But for some unfathomable reason the powers that be at T-Mobile don't want to push out the word that some of their currently available mobile handsets can surf the net waves on T-Mobile's network at 3G speed.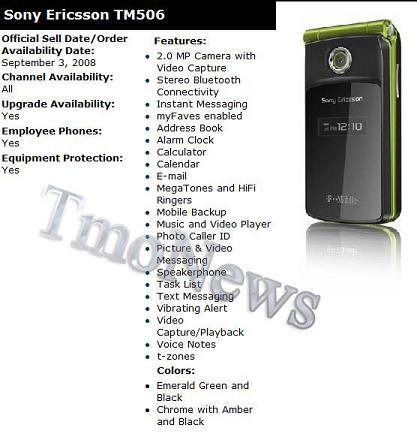 One such mobile phone is the Sony Ericsson Tm506 Bella, a slick and stylish clamshell design handset that supports aGPS, 2 megapixel camera, web feed reader such as podcasts, news, and RSS, and a healthy heap of 3G UMTS/HSDPA on 1700Mhz and 2100Mhz.
The surprising thing we find is that T-Mobile's latest promo material for the Sony Ericsson TM 506 Bella neglects to mention the important fact of 3G capability and aGPS.
Oh, they mention the camera, the email capabilities, the Bluetooth, even what colours are available, but totally blank the 3G and aGPS, and these are important selling points too.
The Sony Ericsson TM506 Bella is due on 3rd September, and is available in Chrome on Amber/Black and Emerald Green on Black, maybe T-Mobile will start promoting their 3G with the release.
Source — tmonews