PwnageTool 2.0.2 preserves SIM unlock solutions with iPhone and iPhone 3G
The iPhone Dev Team have released the latest PwnageTool update PwnageTool 2.0.2, and brings with it a fresher compatibility with the Apple iPhone 2.0.1 OS and includes the much awaiting Installer 4 beta.
The last whisper was that the iPhone 2.0.1 OS was bundled with a new baseband firmware which was speculated to prevent future SIM unlocking and break the PwnageTool 2.0.1 jailbreak process.
Now the iPhone Dev Team goes public with their PwnageTool 2.0.2, which means Apple iPhone users can once again jailbreak all firmware versions of the iPhone OS on both iPhone and iPhone 3G. Yes this means that jailbreak apps will now work with the latest Apple iPhone OS.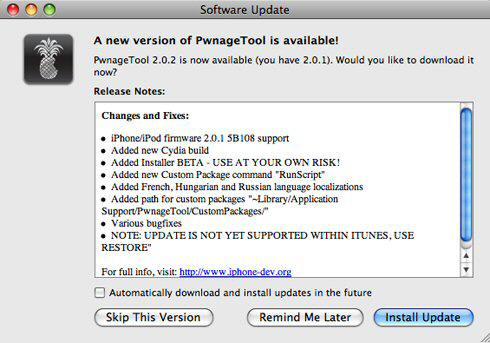 The PwnageTool 2.0.2 actually creates custom .ipsw files which replace Apple's iPhone 3G baseband firmware with an unlock friendly baseband firmware, which means it will preserve the users iPhone 3G compatibility with SIM unlock solutions that the Dev Team may launch.
A quick word of warning for anyone who downloads the PwnageTool 2.0.2, DO NOT use anything other than your Mac's built-in decompression tool to un-archive the .tbz file, otherwise you are likely to gain corrupt files.
Source — iPhone Dev Team