Voice your email via MyCaption for BlackBerry smartphones
Are you a BlackBerry owner and tired of tapping out emails? Wouldn't it be so much easier to be able to dictate your emails onto your BlackBerry smartphone?
Well apparently now you can. If you own a BlackBerry you can speak your emails with a new service known as MyCaption from MyCaption.com and is the first service integrated into the work-flow of the BlackBerry thus enabling users to speak their email into the BlackBerry email application.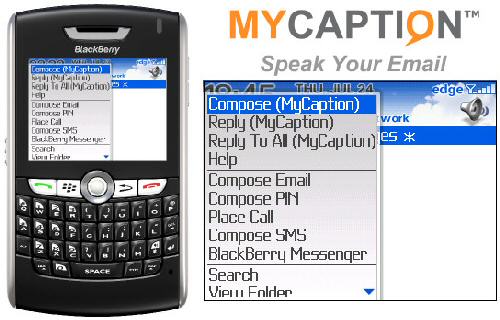 CEO of MyCaption.com, Vipul Bhatt says: "Mobile business users are starting to rely on smartphones to synchronize with the Enterprise. MyCaption for BlackBerry is our first product to enable the use of the most popular Enterprise smartphone as a data entry tool."
With the MyCaption for BlackBerry there are a few unique benefits such as An option to review email texts before they are sent; A comfortably-spoken message duration of up to 3 minutes long; Seamless integration into email functions, such as Compose, Reply, Forward, and Reply to All; Integration with multiple mailboxes/email accounts; and several privacy-protection options, optimised for business users.
Source — MyCaption via Crackberry