Apple iPhone 3G plan rate lowered by Softbank Mobile
Japan's Softbank Mobile stays that have had a fairly decent quarter, however if you compare with the likes of DoCoMo, it tends to look a little weak. Softbank, the exclusive carrier in Japan for the Apple iPhone 3G, in answer to much outcry of "Too expensive" has decided to lower the price of monthly data charges to each iPhone 3G user.
Softbank's "Too expensive" previous charge was ¥5,985, roughly about $55.00 per month for their unlimited data; now Softbank has lowered that charge to ¥1,695 , roughly $16.00 per month.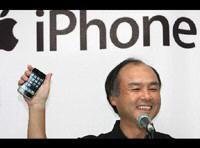 Quite a big drop to cover 20,175 packets of data, "after which the user will pay per packet until 71,250 packets, at which time the previous ¥5,985 charge is reached and further data use is not charged."
Other news is that Softbank is to start allowing stores to take reservations for the Apple iPhone 3G handset, previously Softbank had not allowed this.
Image via here
Source — PC World via Engadget