Details on two new Nokia mobiles due next week
The bods over at Nokia are keeping a little tight lipped on this, but apparently the word roaming the net waves is that Nokia plan to show off a couple of new mobile phones next Monday.
There is even a rumour that Nokia may follow up with an actual launch of both mobile phones a week later, which would put it on the following Monday or just after.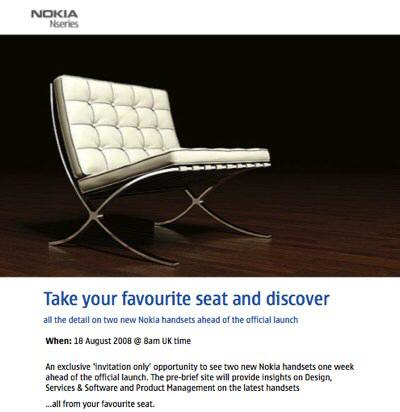 Boy Genius Report speculates that these two new Nokia mobile phones will be the Nokia N79 and the Nokia N85. Both these were spotted alongside Nokia's XpressMedia 5800 Tube mobile phone, but were somewhat light on the details side of things.
The Nokia N85 recently passed through the FCC and is tri-band WCDMA with a 5 megapixel camera with auto-focus, GPS, integrated FM transmitter and a dual-slide form factor. Whereas, the Nokia N79 is still somewhat shady on the specs department.
Still it's not long to wait to see if this happens.
Image via here
Source — igadgetlife via BGR and Engadget