PONS Dictionaries for iPhone coming to the Apple App Store
Users of the Apple iPhone and Apple iPod Touch are to gain the popular PONS dictionaries via Paragon Software.
A series of PONS dictionaries including PONS Advanced French, PONS Advanced English, and PONS Advanced Italian are about to hit the Apple iTunes App Store.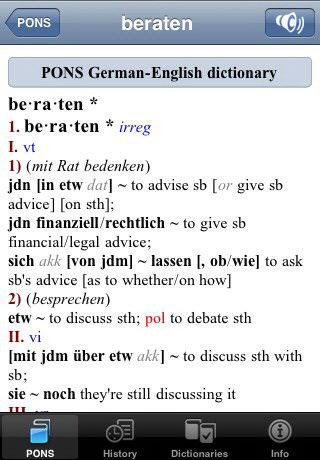 If you grab this new application don't worry about space being eated on your Apple iPhone of iPod Touch because Paragon's SlovoEd engine runs the show in the backend and makes sure you receive fast look up speeds.
PONS dictionaries have been tailor made for the Apple iPhone and the dictionary database is powered by PONS and contains 117,171 entries thus easily making it the best dictionary engine on the market.
Audio modules contain virtually 40,000 live voice pronunciations prerecorded via native speakers which help master a new language. The PONS dictionaries include "Cross-Lookup" which is an easy check of language comprehension, and the "History" feature holds the last 15 translated words.
PONS dictionaries will be coming to the Apple App Store later this year at a price of $24.99 roughly EUR19.99.
Source — intomobile