Rock The Vote brings youth into political process via mobile
Everyone wants to get in on the world of mobile content, and that also includes the area of the political process, and to this end Rock The Vote, FunMobility and AT&T have announced their launch of downloadable content for mobile phones
This downloadable content is to "help encourage young people to leverage their voting power in the political process."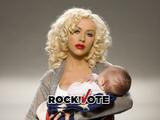 Apparently Rock The Vote's mobile campaign aims to bring together artists, mobile technologies and popular music.
FunMobility, America's largest mobile content community is known to own the larges inventory of free downloads which include ringtones and wallpapers.
FunMobility has created a strong catalogue of Rock The Vote mobile content which is available to download via the FunMobility FunScreenz app within AT&T Media Mail or you can download the content from rockthevote.funmo.com.
New content will be added to the storefront all the way through the election on 4th November.
One way to get the youth of today interested in politics I suppose.
Source — Rock The Vote via intomobile