Introducing the Invision mobile from LG and AT&T
LG and AT&T have announced the arrival of the LG Invision mobile phone, and is the third iconic handset to deliver AT&T Mobile TV.
The LG Invision is apparently the smallest Mobile TV capable mobile phone in the United States, being just over 4 inches in height, 2 inched in width and under a half an inch thick.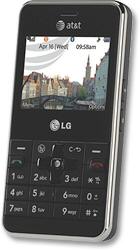 Owners of the LG Invision can watch TV programs such as major football games via CBS Mobile, along with programs from FOX mobile, NBC2GO, and ESPN Mobile.
Spec wise the LG Invision offers up, 1.3 megapixel camera, video share calling capability, AT&T Mobile Music, side loading compatibility from Napster To Go, unrestricted MP3 audio files and streaming digital radio via XM Radio Mobile, Bluetooth 2.0.
Vice president of Product Strategy and Marketing at LG Mobile Phones, Ehtisham Rabbani, said: "LG continues to focus on what consumers are craving from their mobile phones, and the Invision is an example of our effort to offer an easy-to-use multimedia mobile device at an affordable price. The Invision incorporates all of the latest entertainment technologies in a sleek form factor that is sure to get noticed."
Source — AT&T via phonescoop