IDSA Award winning D-Link FuChat phone concept
The winner of the Bronze award at the International Design Excellence Awards 2008 was the bizarre looking D-Link FuChat phone concept.
To win the Bronze award the D-Link FuChat competed against 1517 other entries from 30 countries in the Concepts and Prototypes of Communication Tools category.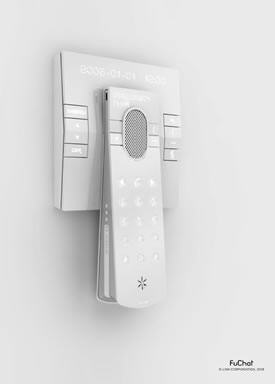 The D-Link FuChat is describes as a next-gen cordless phone which can make both internet and landline calls, Oh and you can hang it on the door knob. But the most interesting thing is that the D-Link FuChat is it is also intuitive and responds to feelings.
According to D-Link: "It features built-in sensors that can gauge the changes in a user's voice and body temperature. Once the phone determines the user's emotional state, it then responds to inform the user of their current status through sound, lights, and colour on the phone."
So basically if you are annoyed with the person on the other end of the D-Link FuChat, the phone will let them know? Or maybe if you are lying your head off?
Source — IDSA via pocket-lint