Engineering measurements for the HTC Dream Android phone
So now we have the full wireframe model with scale measurements of the soon to be released HTC Dream Android based mobile phone. Although there is no conformation this is authentic it does seem to run along the lines of what is being seen at the FCC.
This design also appears to be an almost perfect match to an earlier reference design floating over the net waves courtesy of Andy Rubin.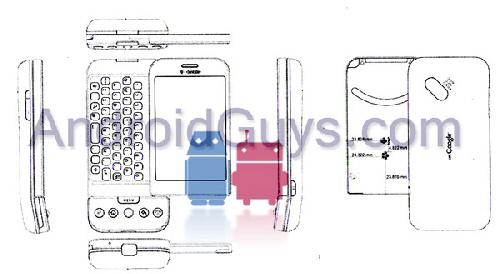 We can obviously see that the arc belongs to the mobile phone's rigid non-sliding chin and plenty of logos of HTC, Google, and T-Mobile all fighting for prize position.
The right-hand image contains measurements that can also be applied to the rest of the scale model as well, and thus confirms the height as being 115mm and width being 55mm as previously shown by the FCC.
After applying the callipers, the approximate depth would come out at 16.35mm, which would make it fatter than the Apple iPhone, bit still thinner than the HTC Touch Pro at 18.1mm or the Sony Ericsson XPERIA X1 as 17mm.
Source — Android Community via Engadget