Vertu goes 3G with revamp Signature
As soon as I see the Vertu logo I sigh, will I ever be able to afford such a sexy phone, Vertu the luxury brand by Nokia has gone one step further this time and launched its high end Signature series, this phone just oozes sex appeal, my hand raising to see if I can actually touch such a fine specimen.
Ok, it is only a phone, but now it has 3G for the first time and if that's not cool enough it's got WiFi for an added bonus. This distinctive phone also has an innovative SIM draw, allowing you to change SIMS without having to take the battery out first.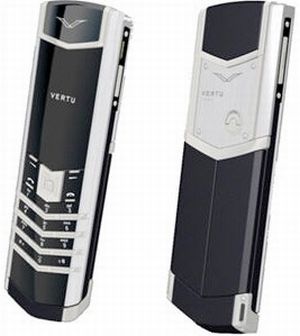 So if having a stylish designer phone really isn't your thing, maybe we can tempt you with the rumour it has an OLED QVGA display with 16 million colour display, E-mail support via POP3/SMTP/IMAP4 email client, Bluetooth and a WAP 2.0 XHTML browser support.
We were only saying a few weeks back that the Signature needed a complete revamp, and finally here it is. So will you be-able to afford the luxury of owning one of these fine Dual band Nokia phones? We have no price for you yet, but we suggest you are seated when we get this information to you.
Source: engadgetmobile