MySpace and Vodafone launch localised MySpace for mobile phones
Vodafone and MySpace have teamed to trial a localised MySpace Mobile page. MySpace's mobile version has receives an uplift of views in the United Kingdom since its launch on Vodafone Live! back in June.
The new MySpace mobile pages have been designed especially for mobile phones and have a new interface and features allowing the mobile phone user to do all the things that can be done with the normal MySpace.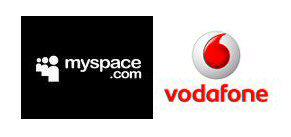 Vodafone Internet services head, Al Russell, said: "Since launching mobile internet in 2007 Vodafone has seen significant growth in customers' use of social networks, email and search."
Source — mobiletoday